One month left: Japanese Prime Minister welcomes Parasailing World Championships
by World Sailing 20 Sep 19:48 UTC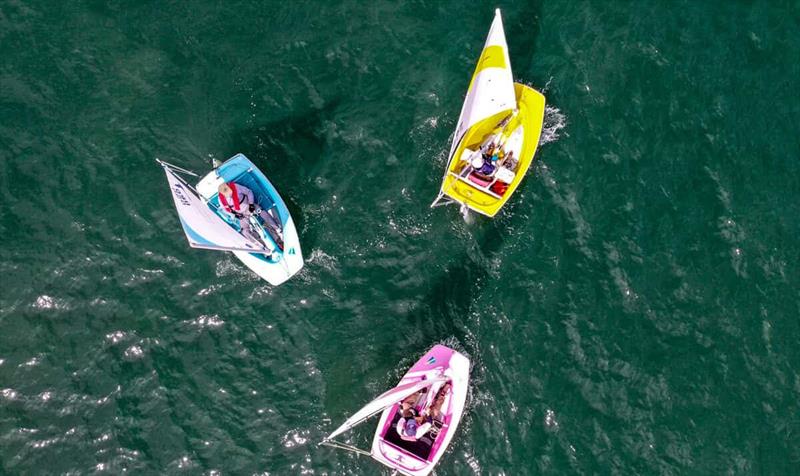 World Parasailing Championships © World Sailing

Japan will make parasailing history in just 30 days by co-hosting the Hansa Class Asia Pacific Championships and the inaugural Para World Sailing Championships on October 20-23 in Hiroshima Bay.
More than 120 sailors from 11 countries will compete in Japan in the Para World Sailing Championships (Hansa 303 men and women, and Liberty class) and Asia Pacific Championships (Hansa 303 singles and doubles, Hansa 2.3 singles and Liberty class).
Fumio Kishida, Prime Minister of Japan, has been a vocal supporter of the Para World Championships ever since it was decided that they would be held at the same time.
At a launch event in his hometown at the fully accessible Hiroshima Kannon Marina, Kishida defended the role of parasailing and parasports in creating a diverse, equitable and inclusive society.
"Creating a society in which men and women of all ages, people with disabilities, and men and women can find purpose in life is a common challenge for the international community.
"I am confident that many participants from all over the world who will gather in Hiroshima, set against the scenic backdrop of the Seto Inland Sea, will give inspiration and courage to bright and shining lives, and contribute to the development of a society that respects Japan's diversity. doing. "

World Sailing Map Courses for Parasailing in Asia
World Sailing has worked closely with the Japanese government and Hiroshima parasports and educational organizations to carefully map the courses of parasailing in Asia, with the ultimate goal of increasing participation as part of parasailing. along. Operation Para World Sailing In 2023.
Japanese Paralympic sailor Yoko Sone, who will compete in the Hansa 303 single at the Para World Sailing Championships, reflects on what this means for parasailing around the world.
"It is very important that the Japanese understand that both parasailors and non-parasailors can enjoy the sport.
I tried wheelchair basketball and wheelchair skiing before sailing, but sailing is sailing in the same boat in the same water.
We show that sailing is an inclusive sport and show the world that Asia has great places and opportunities for parasailing by hosting the first official parasailing world championship in Japan. I can. This will encourage other Asian countries to start parasailing programs. , even in programs other than parasailing. "

LA28 and Global Parasailing "For Everyone"
It's been 11 months since World Sailing launched #BacktheBid as sailing in Japan and around the world is making history. Los Angeles 2028 Campaign to Bring Sailing Back to the Paralympics.
World Sailing CEO David Graham emphasizes:
"This is a very important year for Paralympic sailing, a huge opportunity to showcase the fact that sailing sees a huge range of physical and sensory abilities and that parasailing has become a sport for everyone. is.
"This is a great joy, especially for Japan, where the Tokyo 2020 Games were a success, and a great opportunity to inspire a whole new generation of parasailers not only in Japan, but around the world."
World Sailing will also host a four-day event. Parasailing training program In less than six years since the program was created in January 2017, it has reached 45 countries.
Masuhiro Baba, Chairman of the Japan Sailing Federation, concludes: .
"Hiroshima, an International Peace Memorial City, has hosted Hansa class events for over 20 years and being chosen to host these two international competitions will stimulate the growth of sailing throughout the region and It will give courage to sailors who pursue their dreams."
The 2022 Hansa Class Asia Pacific Championships and Para World Sailing Championships are organized by the Japan Sailing Federation, the International Hansa Class Association, the Japan Hansa Class Association and the Hiroshima Sailing Federation, jointly sponsored by World Sailing and the Japanese Para-Sports Association. , Hiroshima Prefectural/City Para-Sports Association
For more information, www.hansaclass-hiroshima.com