MultiVersus Open Beta is not available in Malaysia, Singapore, and Southeast Asian countries
If you plan to play Warner Bros.'s hit 2D fighting game MultiVersus and live in Southeast Asia, do your best.
According to game director Tony Huynh, the game is available in the United States, North America, Europe and Australia, but not in Southeast Asia and other countries. This is because developer Player First has limited resources to deploy the game outside the United States and Europe. This is due to the net code and stability of the game. The game will eventually be available in those areas. When? We don't know because Warner Bros. hasn't provided an answer yet.
Our goal is to allow all players to play MultiVersus, but we are a small team with limited resources. Each time you add a new area, your team grows even further. When the game is a little more stable, we plan to deploy more servers in different locations.

— Tony Huynh (@Tony_Huynh) July 27, 2022
In summary, MultiVersus Open Beta is not playable in the following regions:
China
Hong Kong
India
Indonesia
Japan
Kazakhstan
Malaysia
Philippines
Russia
Singapore
Korea
Taiwan
Thailand
Vietnam
When I visit the MultiVersus main page and try to download a free-to-play game to my PC (Steam and Epic Games Store) or PlayStation Store, I get the following error: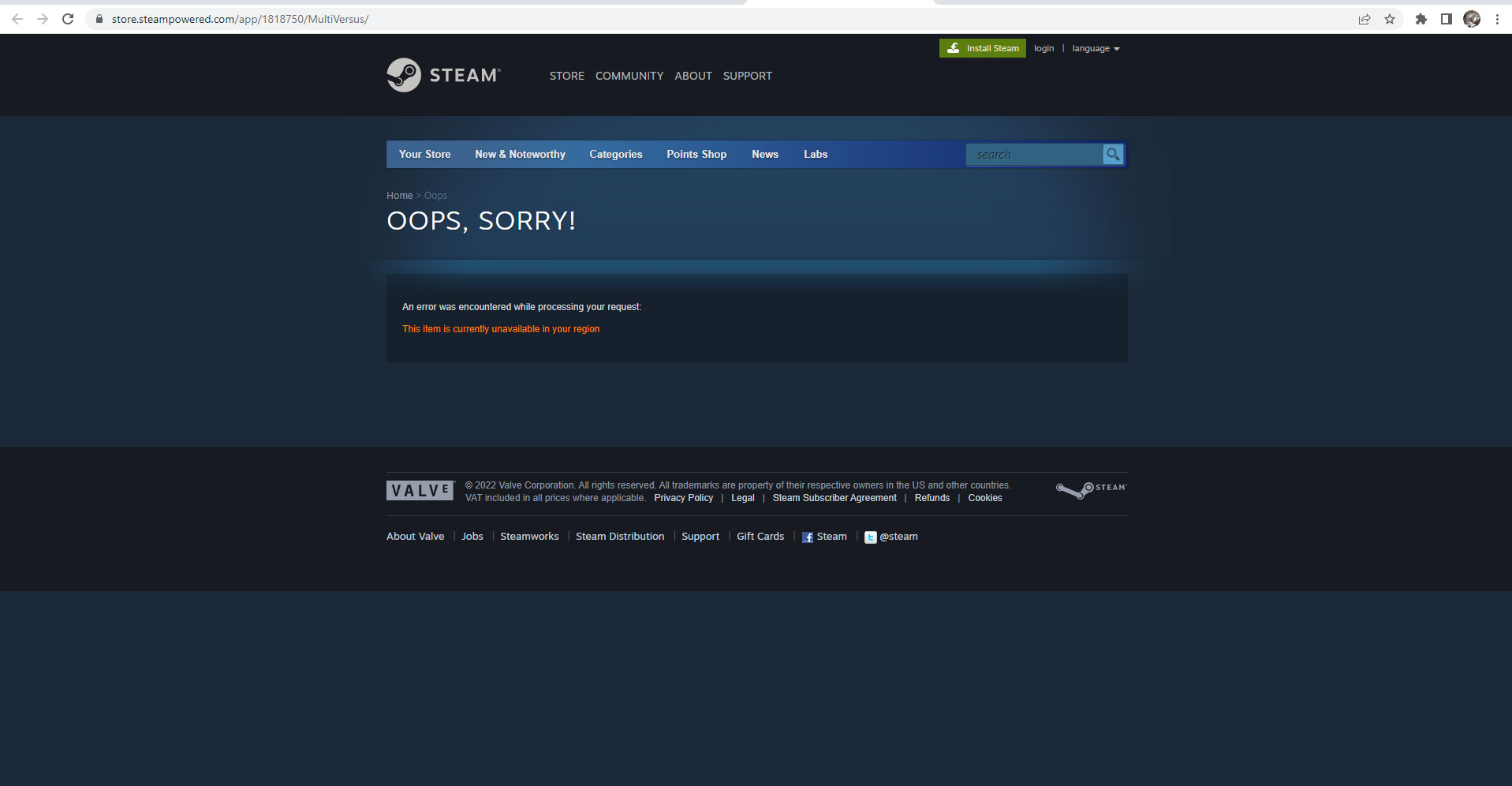 Yes, I can download the game to my Xbox using a non-Asian account, but when I go to the Start screen, I get an error saying that my connection has been lost. It's a game that tells you that you are blocked from playing it.
The millionth time I'm asking you for help. I know you are busy. But please tell me what the problem is or if it will be fixed.

I'm using an Asian Xbox. pic.twitter.com/qDSeLpvZ8x

— Just a wanderer (@WandererBat) July 21, 2022
Can I play MultiVersus using a VPN?
No, you can't. If you do this, Warner Bros. will keep track of your account and prevent MultiVersus from playing, even if you gain access. Masking IPs to look like they are from the United States or other countries is a big risk. So basically, players from Southeast Asia, Malaysia, Singapore, the Philippines, and the countries mentioned above are blocked from playing MultiVersus Open Beta.
This means that we in Asia will have to wait until the game becomes available in the future, especially from the open beta. In the meantime Game coverage so you can prepare.
Related